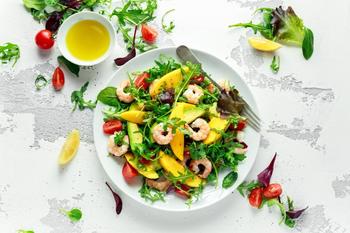 Light salad with tiger shrimps and avocados
This dish is very low-calorie and easy to cook. The salad is incredibly useful, so it is perfect for those who tend to look after their health and body shape. Because of tiger shrimps and parmesan, there is a lot of protein in it, while arugula adds a portion of vitamins, and avocado nuts provide valuable fats. By the way, if you don't have time to wait for tiger shrimps to unfreeze, you can use a life hack from the chef and just pour warm water for about 20 minutes.
1.

Tiger shrimps

— 5pcs

2.

Avocados

— 200g

3.

Cherry tomatoes

— 80g

4.

Parmesan

— 60g

5.

Arugul

— 80g

6.

Lime

— 0,5pc

7.

Olive oil

— 35ml

8.

Wine

— 30g

9.

Soy Sauce

— 10ml

10.

Balsamic cream

— 10ml

11.

Honey (flower)

— 20g

12.

Cedar nuts

— 10g

13.

Salt

— to taste

14.

Pepper

— to taste
You can buy the ingredients for this recipe in these stores:
Stages of cooking
Prepare a dressing: mix honey with soy sauce, zest and fresh juice from one half of lime, balsamic cream and olive oil

Put the arugula on the bottom of the plate. Top with crushed diced avocado, halves of cherry tomatoes and thin slices of parmesan.

Fry the peeled shrimps in olive oil. Salt, pepper, pour the wine in.

Put the shrimp on top of the remaining ingredients, sprinkle with nuts, and cover with dressing.