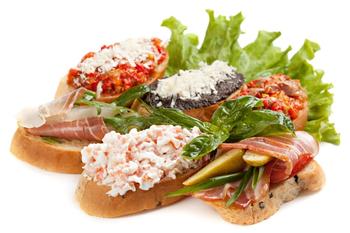 Classic Italian appetizer "Bruschetta Trio"
Bruschetta is a popular snack in Italy. In translation, this word means "to roast over coals". It is based on a dried or toasted slice of bread, but it is not necessary should be cooked over charcoal. Electric grill or ordinary frying pan without oil would be perfect. This appetizer can be prepared really quickly and served before main dishes. Ilya Semin, the head chef, suggests cooking a trio of bruschetta: with salmon and cream cheese, with dried tomatoes pesto and olive tapenade.
1.

Ciabatta Bread

— 3 slices

2.

. Dried tomatoes

— 55g

3.

Chopped Parmesan

— 35g

4.

Garlic

— 18g

5.

Cedar nuts

— 35g

6.

Plate red pepper

— 2g

7.

Basil leaves

— 20g

8.

Olives

— 180g

9.

Anchovies

— 50g

10.

Capers

— 120g

11.

Parsley chopped

— 22g

12.

Lemon juice

— 59g

13.

Cream Cheese

— 55g

14.

Smoked salmon

— 50g

15.

Baked salmon fillet

— 150g

16.

Chopped white horseradish

— to taste

17.

Dill

— 15g

18.

Salt

— to taste

19.

Black pepper

— to taste

20.

Olive oil

— 115g
You can buy the ingredients for this recipe in these stores:
NOVUS Kyiv Livoberezhna

NOVUS Pravdy Ave, 47

NOVUS Osokor Zdolbunivska 7Г

NOVUS Mykolaiv Kosmonavtiv 83A

Auchan Kyiv Lugova 12

METRO Odesa Aeroportіvska 29

EkoMarket Zhytomyr, Otamaniv Sokolovskykh St, 1

METRO Lviv G Washington 8

METRO Chernivtsi

METRO Poltava

METRO Ivano-Frankivsk

METRO Kryvyy Rig

METRO Vinnytsia Khmelnytskе Highway 1 0,5km

EkoMarket Kyiv Zakrevs'koho 12

Tavria V Mykolaiv Lazurna 17

Auchan Dnipro Nyzhniodniprovs'ka 17

Auchan Kharkiv Heroiv Pratsi 7

Auchan S.Bandera Avenue 15A

Cosmos Odesa Akademichna 28

Auchan, Velyka Kiltceva 4

Auchan Kiev Academic Glushkov 13B

Auchan Kyiv Bilychi

EkoMarket Poltava Yevgena Konovaltsa 2

METRO Kharkiv Kiltsevyi shlyax 8

EkoMarket Mykolaiv Khersonske highway 38A

Tavria V Kharkiv

Ultramarket Kyiv Vadyma Hetmana

Auchan Lviv Stryiska 30

Ultramarket Kyiv Surykova 3

Auchan Chernivtsi Khotyns'ka, 43

CityMarket Hostomel Chkalova, 1

Auchan Kyiv Sim'i Sosninykh, 17

METRO Kyiv Troieschyna

Megamarket Kyiv Vadyma Hetmana

Megamarket Kyiv Surykova 3

METRO Dnipro (Zaporiz'ke Hwy, 63)

EkoMarket Ivano-Frankivsk Vovchynetska 225A

METRO Zhytomyr Nezalezhnosti Ave 55B

METRO Mariupol Zaporizke shose, 4

EkoMarket Vinnytsia, Kotsyubyns'koho Ave, 70

METRO Rivne

EkoMarket Kiev Zhylianska, 107

METRO Zaporizhzhia Orikhivskе Highway 7А

Auchan Zhytomyr Kievskaya, 77

Auchan Kiev Hnata Khotkevycha, 1Б

METRO Mykolaiv

Auchan Zaporizhzhia

Auchan Odesa

Auchan Kyiv Antonovycha 176

Auchan Rive Gauche Zdolbunivs'ka 17

Cosmos Kyiv Honore de Balzac 2A

METRO Kyiv Kiltseva 1V

Pchelka Kyiv Vatslav Gavel 18

METRO Kiev Grigorenko
Stages of cooking
Prepare pesto from dried tomatoes. Mix dried tomatoes basil, parmesan, red pepper plates, pine nuts, basil, 9 g of garlic, 65 g of olive oil, salt and pepper and chop it using blender.

Prepare tapenade from olives. Mix olives, 9 g of garlic, 54 g of lemon juice, 55 g of olive oil, anchovies, salt and pepper and chop it using blender. Add parsley and capers to the mass.

Bake the salmon fillet for 15 minutes. Grind baked salmon with horseradish, 5 g of lemon juice and cream cheese in a blender, mix the mass with chopped smoked salmon and dill.

Put the stuffing on 3 pieces of dried ciabatta.