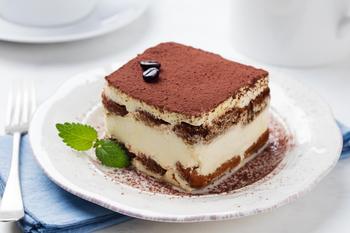 Tiramisu classic recipe
Italians are proud of their tiramisu dessert, considering it as a national treasure. It is quite understandable, because the delicate taste of cookies that are melting in the mouth with mascarpone-based air cream and the invigorating aroma of espresso is what gives unbelievable pleasure to tiramisu fans all around the world. This dessert has many variations: fruits and berries may be added to it. But we suggest not to deviate from the canons and cook tiramisu according to the classic recipe. By the way, Italians prefer to eat tiramisu in the afternoon, between lunch and dinner, because dessert helps to recover and get a boost of energy. However, it seems to us that cheering yourself up with tiramisu is a great idea, regardless of the time of the day.
1.

Mascarpone Cheese

— 455g

2.

Cookies for tiramisu

— 20pcs.

3.

Sugar

— 100g

4.

Scalded freshly made coffee

— 120ml

5.

Espresso

— 60ml

6.

Rum

— 44ml

7.

Cream

— 240ml

8.

Cocoa powder

— 50g

9.

Grated dark chocolate (for powder)

— 50g
You can buy the ingredients for this recipe in these stores:
Stages of cooking
Mix the coffee with espresso and let it cool.

Mix mascarpone with rum and sugar. Whip the cream, and add the mascarpone to it, gently stirring.

Dip cookies in coffee one by one and put them into shape.

Put the cream on the cookies.

Make another layer of cookies and another layer of cream.

Sprinkle with cocoa and chocolate.

Leave in the refrigerator for 4 hours.