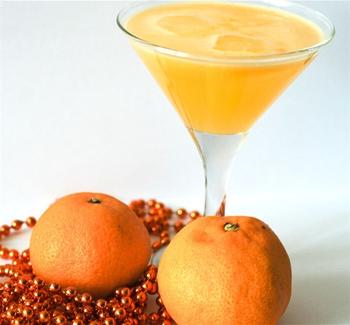 Новогодний коктейль
К вашему вниманию представлен алкогольный коктейль «для взрослых», в состав которого входит вермут (мартини) и мандарины. Такой фрукт, как мандарин, наверное, абсолютно у всех в первую очередь ассоциируется с новогодними и рождественскими праздниками, с зимней порой года. Потому и коктейль можно назвать новогодним. Он достаточно празднично и ярко выглядит. Украсить коктейль можно следующим образом: перед подачей охладить бокалы в морозильнике, затем достать, края бокала опустить в воду и сразу же в сахар. Таким образом коктейль охладится, а края бокала получат красивый «снежный» ободок.
1.

Вермут (мартини)

— 800 мл.

2.

Мандарины

— 600 г.

3.

Сахар

— 30 г.
You can buy the ingredients for this recipe in these stores:
NOVUS Rivne Gagarina, 26

NOVUS Pravdy Ave, 47

NOVUS Kyiv Bazhana 8

NOVUS Osokor Zdolbunivska 7Г

NOVUS Mykolaiv Kosmonavtiv 83A

NOVUS Kyiv Livoberezhna

Auchan Kyiv Lugova 12

METRO Zhytomyr Nezalezhnosti Ave 55B

METRO Mariupol Zaporizke shose, 4

Tavria V Odesa

EkoMarket Zhytomyr, Otamaniv Sokolovskykh St, 1

METRO Lviv G Washington 8

METRO Chernivtsi

METRO Poltava

METRO Ivano-Frankivsk

METRO Kryvyy Rig

METRO Vinnytsia Khmelnytskе Highway 1 0,5km

METRO Mykolaiv

Tavria V Mykolaiv Lazurna 17

Auchan Dnipro Nyzhniodniprovs'ka 17

Auchan Kharkiv Heroiv Pratsi 7

Auchan S.Bandera Avenue 15A

Cosmos Odesa Akademichna 28

Auchan, Velyka Kiltceva 4

Auchan Kiev Academic Glushkov 13B

Auchan Kyiv Bilychi

EkoMarket Poltava Yevgena Konovaltsa 2

METRO Kharkiv Kiltsevyi shlyax 8

EkoMarket Mykolaiv Khersonske highway 38A

EkoMarket Kyiv Zakrevs'koho 12

Ultramarket Kyiv Vadyma Hetmana

Auchan Lviv Stryiska 30

Auchan Chernivtsi Khotyns'ka, 43

CityMarket Hostomel Chkalova, 1

Auchan Kyiv Sim'i Sosninykh, 17

EkoMarket Kiev Zhylianska, 107

Megamarket Kyiv Vadyma Hetmana

METRO Dnipro (Zaporiz'ke Hwy, 63)

EkoMarket Ivano-Frankivsk Vovchynetska 225A

METRO Kyiv Kiltseva 1V

METRO Kiev Grigorenko

METRO Kharkiv Haharina - Haharina Avenue 187/1

METRO Odesa Aeroportіvska 29

EkoMarket Vinnytsia, Kotsyubyns'koho Ave, 70

METRO Rivne

METRO Kyiv Troieschyna

METRO Zaporizhzhia Orikhivskе Highway 7А

METRO Odesa Lymanka - Nebesnoi Sotni Avenue, 101, Lymanka

Auchan Zhytomyr Kievskaya, 77

Auchan Kiev Hnata Khotkevycha, 1Б

Tavria V Kharkiv

Auchan Zaporizhzhia

Auchan Odesa

Auchan Kyiv Antonovycha 176

Auchan Rive Gauche Zdolbunivs'ka 17

Cosmos Kyiv Honore de Balzac 2A

EkoMarket Boryspil Kyivskyi shliakh, 2/14

Pchelka Kyiv Vatslav Gavel 18
Stages of cooking
Очистить мандарины, разобрать на дольки, очистить от кожуры. Положить мандарины в блендер, добавить лед, сахар, мартини и довести всё до однородного состояния. Разлить коктейль по бокалам.