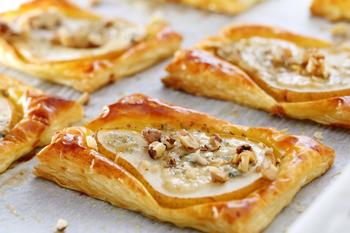 Yeast puff pastry buns with pears and walnuts
Do you want to make fragrant buns with fruit filling without any fussing with the dough? This is possible! Head chef Ilya Semin offers to make these crunchy homemade pastry from already-made puff pastry yeast dough. It is very easy and fast. In general, if such dough is stored in your freezer, just in case, then you shouldn't be afraid of the unexpected guests arrival, nor the questions about which tasty dish can complement your tea.
1.

Yeast sheet dough

— 1pack

2.

Egg yolks

— 4pcs

3.

Sugar

— 350g

4.

Pears (Concord, Bosque or Anjou)

— 500g

5.

Lemon

— 1pc

6.

Vanilla extract

— to taste

7.

Cardamom

— 3g

8.

Badian

— 1g

9.

Cream for lubrication

— 100ml

10.

Walnuts for powder

— 200g
You can buy the ingredients for this recipe in these stores:
Stages of cooking
Defrost the dough before the cooking.

Prepare the jam: add sugar to pear pieces and add lemon zest. Put the mixture in a saucepan and boil, then reduce heat, add spices and cook for 30 minutes. At the end, pour the lemon juice in.

Put the cooled jam on the squares of dough and then wrap. Top dough with egg yolks together with whipped cream.

Bake buns for 15 minutes, the temperature shouldn't be very high. Sprinkle the prepared dessert with dried chopped walnuts.