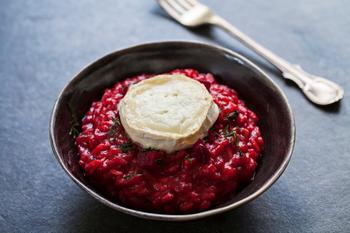 Risotto from beet with goat cheese
The main feature of Italian risotto is its consistency. Gentle and creamy dish, without any boiled rice grains significantly differs from pilaf and rice pudding. We offer you to take the advice from the chef Ilya Semin and cook it according to the instructions. This version of risotto will surprise with an unusual taste and beautiful color. The presence of beet makes it even more useful for your body.
1.

Chicken wings

— 300g

2.

Bay leaf

— 1pc

3.

Carrots

— 1pc

4.

Onion

— 2pc

5.

Allspice

— 3g

6.

Black pepper

— 3g

7.

Water

— 1500ml

8.

Rice arborio

— 200g

9.

Broth

— 750ml

10.

Beetroot

— 3pcs

11.

Dill

— to taste

12.

Balsamic vinegar

— 15g

13.

Wine (dry white)

— 100g

14.

Butter

— 120g

15.

Goat cheese

— 200g

16.

Parmesan

— 50g

17.

Garlic

— 3heads

18.

Salt

— to taste
You can buy the ingredients for this recipe in these stores:
NOVUS Kyiv Livoberezhna

NOVUS Pravdy Ave, 47

NOVUS Osokor Zdolbunivska 7Г

NOVUS Mykolaiv Kosmonavtiv 83A

Auchan Kyiv Lugova 12

METRO Mariupol Zaporizke shose, 4

EkoMarket Zhytomyr, Otamaniv Sokolovskykh St, 1

METRO Lviv G Washington 8

METRO Chernivtsi

METRO Poltava

METRO Ivano-Frankivsk

METRO Kryvyy Rig

METRO Vinnytsia Khmelnytskе Highway 1 0,5km

EkoMarket Kyiv Zakrevs'koho 12

Tavria V Mykolaiv Lazurna 17

Auchan Dnipro Nyzhniodniprovs'ka 17

Auchan Kharkiv Heroiv Pratsi 7

Auchan S.Bandera Avenue 15A

Cosmos Odesa Akademichna 28

Auchan, Velyka Kiltceva 4

Auchan Kiev Academic Glushkov 13B

Auchan Kyiv Bilychi

EkoMarket Poltava Yevgena Konovaltsa 2

METRO Kharkiv Kiltsevyi shlyax 8

EkoMarket Mykolaiv Khersonske highway 38A

Tavria V Kharkiv

Ultramarket Kyiv Vadyma Hetmana

Auchan Lviv Stryiska 30

Ultramarket Kyiv Surykova 3

Auchan Chernivtsi Khotyns'ka, 43

CityMarket Hostomel Chkalova, 1

Auchan Kyiv Sim'i Sosninykh, 17

METRO Kyiv Troieschyna

Megamarket Kyiv Vadyma Hetmana

Megamarket Kyiv Surykova 3

METRO Dnipro (Zaporiz'ke Hwy, 63)

EkoMarket Ivano-Frankivsk Vovchynetska 225A

METRO Zhytomyr Nezalezhnosti Ave 55B

METRO Odesa Aeroportіvska 29

EkoMarket Vinnytsia, Kotsyubyns'koho Ave, 70

METRO Rivne

EkoMarket Kiev Zhylianska, 107

METRO Zaporizhzhia Orikhivskе Highway 7А

Auchan Zhytomyr Kievskaya, 77

Auchan Kiev Hnata Khotkevycha, 1Б

METRO Mykolaiv

Auchan Zaporizhzhia

Auchan Odesa

Auchan Kyiv Antonovycha 176

Auchan Rive Gauche Zdolbunivs'ka 17

Cosmos Kyiv Honore de Balzac 2A

METRO Kyiv Kiltseva 1V

EkoMarket Boryspil Kyivskyi shliakh, 2/14

Pchelka Kyiv Vatslav Gavel 18

METRO Kiev Grigorenko
Stages of cooking
Cook the broth. (Put the chicken wings, bay leaves, carrots, 1 onion, fermented and black pepper into the pan, add 1500 ml of water, cook for 60 minutes).

Bake beets in advance, when it cools, peel them. Cut one piece into cubes, and mash the rest in the blender.

Fry the garlic and onion with 60 g of butter. Pour the arborio rice in and mix it well.

Pour in the wine and evaporate it gradually.

Slowly add warm broth, stirring the risotto carefully.

Add beets, pour in vinegar, pepper and salt. When everything is warm, put the remaining butter and grated parmesan, mix well.

Leave for a couple of minutes, without opening the lid, serve into plates, sprinkle with cheese and dill.