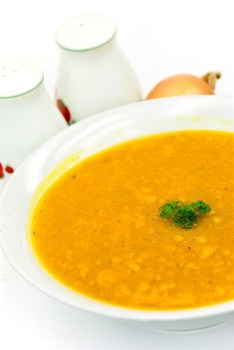 Тыквенно-картофельный суп со сливками
1.

Тыква

— 500 г

2.

Картофель

— 250 г

3.

Масло сливочное

— 50 г

4.

Молоко

— 500 мл

5.

Лук

— 100 г

6.

Бульон

— 400 мл

7.

Петрушка

— 40 г

8.

Сливки

— 100 мл

9.

Соль

— по вкусу

10.

Перец черный молотый

— по вкусу
You can buy the ingredients for this recipe in these stores:
NOVUS Rivne Gagarina, 26

NOVUS Pravdy Ave, 47

NOVUS Kyiv Bazhana 8

NOVUS Osokor Zdolbunivska 7Г

NOVUS Mykolaiv Kosmonavtiv 83A

NOVUS Kyiv Livoberezhna

Auchan Kyiv Lugova 12

METRO Zhytomyr Nezalezhnosti Ave 55B

METRO Mariupol Zaporizke shose, 4

EkoMarket Zhytomyr, Otamaniv Sokolovskykh St, 1

METRO Lviv G Washington 8

METRO Chernivtsi

METRO Poltava

METRO Ivano-Frankivsk

METRO Kryvyy Rig

METRO Vinnytsia Khmelnytskе Highway 1 0,5km

EkoMarket Kyiv Zakrevs'koho 12

Tavria V Mykolaiv Lazurna 17

Auchan Dnipro Nyzhniodniprovs'ka 17

Auchan Kharkiv Heroiv Pratsi 7

Auchan S.Bandera Avenue 15A

Cosmos Odesa Akademichna 28

Auchan, Velyka Kiltceva 4

Auchan Kiev Academic Glushkov 13B

Auchan Kyiv Bilychi

EkoMarket Poltava Yevgena Konovaltsa 2

METRO Kharkiv Kiltsevyi shlyax 8

EkoMarket Mykolaiv Khersonske highway 38A

Tavria V Kharkiv

Ultramarket Kyiv Vadyma Hetmana

Auchan Lviv Stryiska 30

Ultramarket Kyiv Surykova 3

Auchan Chernivtsi Khotyns'ka, 43

CityMarket Hostomel Chkalova, 1

Auchan Kyiv Sim'i Sosninykh, 17

EkoMarket Kiev Zhylianska, 107

Megamarket Kyiv Vadyma Hetmana

Megamarket Kyiv Surykova 3

METRO Dnipro (Zaporiz'ke Hwy, 63)

EkoMarket Ivano-Frankivsk Vovchynetska 225A

METRO Kyiv Kiltseva 1V

METRO Kiev Grigorenko

METRO Kharkiv Haharina - Haharina Avenue 187/1

METRO Odesa Aeroportіvska 29

EkoMarket Vinnytsia, Kotsyubyns'koho Ave, 70

METRO Rivne

METRO Kyiv Troieschyna

METRO Zaporizhzhia Orikhivskе Highway 7А

METRO Odesa Lymanka - Nebesnoi Sotni Avenue, 101, Lymanka

Auchan Zhytomyr Kievskaya, 77

Auchan Kiev Hnata Khotkevycha, 1Б

METRO Mykolaiv

Auchan Zaporizhzhia

Auchan Odesa

Auchan Kyiv Antonovycha 176

Auchan Rive Gauche Zdolbunivs'ka 17

Cosmos Kyiv Honore de Balzac 2A

EkoMarket Boryspil Kyivskyi shliakh, 2/14

Pchelka Kyiv Vatslav Gavel 18
Stages of cooking
Тыкву и картофель хорошо помыть и очистить. Овощи нарезать кубиками и пассировать в кастрюле с добавлением сливочного масла до золотистого цвета. Добавить в кастрюлю молоко, довести до кипения на маленьком огне и варить 40 минут.

Измельчить овощи с молоком блендером до состояния пюре. Добавить к смеси соль и перец. Хорошо всё перемешать и довести до однородной консистенции.

Лук очистить, мелко нарезать. Обжарить лук на сливочном масле до золотистого цвета. Петрушку помыть, просушить и мелко нарезать.

Пассированный лук и овощной бульон добавить в кастрюлю с пюре. Довести суп до кипения и варить около 5 минут. Подавать суп горячим. Перед подачей добавить в суп сливки и петрушку.