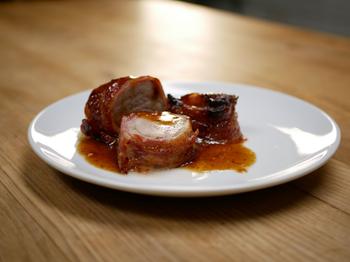 виная вырезка с беконом под яблочной глазурью
Pork is a such a familiar product to us. However, unusual cooking methods, for example, combination with fruits, allow you to discover new facets of its taste. Today we propose to do this together with Ilya Semin, the chef of the Tin Tin restaurant. Being guided by the chef's recipe and the tips that you will find in the video by following the link, you can easily prepare a restaurant dish at home - pork tenderloin with bacon under apple glaze. Let's get started!
1.

Pork tenderloin

— 650g

2.

Apples

— 340g

3.

Apple juice

— 300g

4.

Apple jam

— 75g

5.

Bacon

— 400g

6.

Maple Syrup

— 75g

7.

Mustard Dijon

— 40g

8.

Garlic

— 80g

9.

Sage

— 15g

10.

Olive oil

— 14g

11.

Salt

— 5g
You can buy the ingredients for this recipe in these stores:
Stages of cooking
Rub meat with a mixture of olive oil, garlic, sage and salt.

Put 8 pieces of culinary thread on a plastic wrap. On those pieces you should have slices of bacon, apple slices on top, and then a prepared tenderloin. Roll up the roll and tie the threads.

Prepare the icing: boil the juice and boil it until it is halved. Add the jam, boil. Remove from heat, add mustard and maple syrup.

Bake the tenderloin for 30 minutes at 150 degrees, pour part of the glaze and bake for another 15 minutes, periodically adding glaze.

Serve the finished tenderloin roll, which is cut into pieces.